Call for participants 6th International Training Workshop of Waste to Energy



Call for Participants
6th International Training Workshop of Waste to Energy
October 18th to November 1st, 2022, Hangzhou, China (Online)
The 6th International Training Workshop of Waste to Energy (WtE) will be conducted from October 18th to November 1st, 2022, in Hangzhou, China (Online). The training workshop intends to share the advanced technology and practical experience regarding WtE development in China. It is helpful for the participants, including technicians and researchers from developing countries, to improve their skills and knowledge, as well as it can promote bilateral and multilateral international cooperation. Last 5 training workshops of WtE have been successfully held since 2016, sponsored by Department of International Cooperation, Ministry of Science and Technology of the People's Republic of China. 117 participants from 22 developing countries have benefitted.
Due to the challenges of the COVID-19 pandemic, the 2021 training workshop of WtE was held online, yet delivered the high-quality training maintained over these years. With the successful proceedings of the 2021 online workshop, the 2022 training workshop on WtE will be yet another success story. The workshop will have tutorials from professors and senior technical experts, covering broad topics including and not limited to theoretical knowledge and practical experience, advanced research, and current applications. The training workshop is for two weeks and has a four-hour daily session. Please pay attention to More Information for further details regarding the background of the workshop, previous workshops memories, training schedule as well as training contents
Participant strength is limited to 30 persons from developing countries. Once the participants have completed all courses and been qualified for assessment, they will be awarded a certificate issued by Zhejiang University and ICCWtE, which will be mailed to the participants along with souvenirs and learning materials of the course, free of charge. Additionally, three outstanding participants will be funded to visit WtE plants with full domestic coverage of possible fees for three days when they come to China in the future.
Organizer
International Joint Research Center for Advanced Energy, College of Energy Engineering, Zhejiang University
Co-organizers
International Consultant Committee of Waste to Energy (ICCWtE)
Zhejiang University of Technology
Training Location
Voovmeeting App, Online (free download and use)
Language
English
You are welcome to apply and register online (https://www.iccwte.org/index/enroll). Applicants can also send their application form and resume by e-mail to the secretariat for registration. The resume should cover your education experience, major, career experience and relevant testimonial materials. The application form can be downloaded: https://www.iccwte.org/index/page/iccwte.html?id=814
The registration duration is May 15th to August 15th, 2022. Scientific researchers, government officials, enterprise managers from developing countries, and professionals engaged in waste management and related fields of energy and environmental protection are welcome to join the workshop. The potential participants should have a bachelor's degree or above.
-Registration: May 15th to August 15th, 2022
-Decision Letter for Admission: August 31st, 2022
-Training Workshop Period: October 18th to November 1st, 2022
Chairs
-Prof. Dr. Xiaodong Li Zhejiang University
Tel.: +86 136 0580 9423 E-mail: lixd@zju.edu.cn
-Assoc. Prof. Dr. Mi Yan Zhejiang University of Technology
Tel.: +86 150 6879 8956 E-mail: yanmi1985@zjut.edu.cn
Secretariats
-Mr. Jianwen Lai -Dr. Hao Zhang -Dr. Anjian Wu
Tel.: +86 137 6079 5877 +86 151 0581 3531 +86 136 5667 9546
E-mail: jamlay@zju.edu.cn
Post Address: Zhejiang University, No.38 Zheda Road, Xihu District, Hangzhou, Zhejiang, China, 310027
More Information
- More details about the background, tentative schedule, lesson content of the workshop, etc., on the web:
https://www.iccwte.org/index/page/iccwte.html?id=814
- The information of the organizers is available on the web:
http://www.doe.zju.edu.cn/doeen/ (College of Energy Engineering, Zhejiang University)
http://www.english.zjut.edu.cn/jsp2/index.jsp (Zhejiang University of Technology)
https://www.iccwte.org/ (International Consultant Committee of Waste to Energy)
- Memories of previous workshops (selected) are available at:
https://www.youtube.com/watch?v=Gth-YmMzzbo (2016)
https://www.youtube.com/watch?v=0BtXSSNAubg (2019)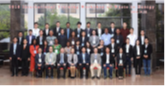 2016 Workshop 2017 Workshop 2018 Workshop 2019 Workshop 2021 Workshop