Citaglobal signs RM15bil MoU with Chinese waste treatment firm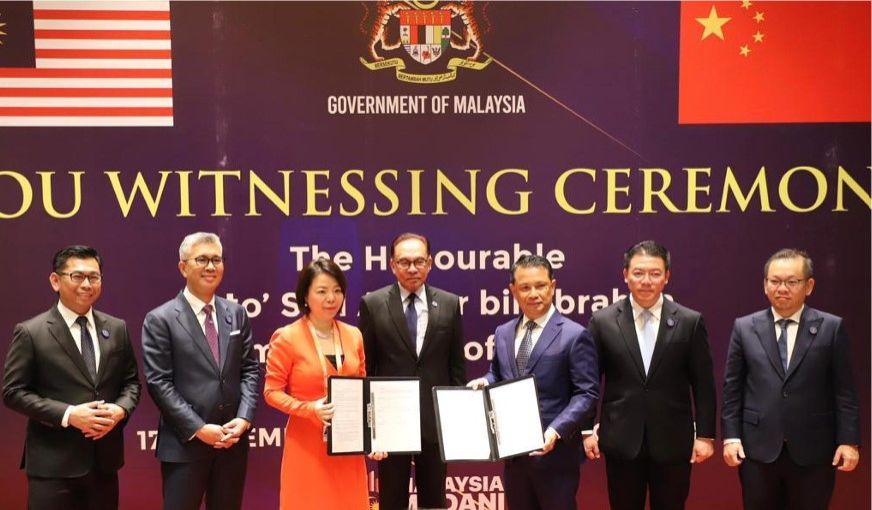 Shanghai SUS Environment Co CEO Cindy Li Haiyan and Citaglobal executive chairman and president Tan Sri Mohamad Norza Zakaria showing the MoU documents. Looking on are Foreign Affairs Deputy Minister Datuk Mohamad Alamin; Investment, Trade and Industry Minister Datuk Seri Utama Tengku Zafrul Aziz; Prime MInister Datuk Seri Anwar Ibrahim; Local Government Development Minister Nga Kor Ming; and Agriculture and Food Security Deputy Minister Chan Foong Hin
KUALA LUMPUR: Chinese waste treatment conglomerate Shanghai SUS Environment Co Ltd is looking to inject RM15bil of foreign direct investment into the Malaysian economy via a collaboration to establish a waste-to-energy (wtE) plant in the country.

It was reported yesterday that Malaysian civil engineering group, Citaglobal Bhd, had entered into a memorandum of understanding with SUS, which outlines the intention of the parties to potentially collaborate on developing WtE power plants in Malaysia.

The agreement was signed during the 20th China-ASEAN Expo and China-ASEAN Business and Investment Summit in Nanning, China, and was witnessed by Prime Minister Datuk Seri Anwar Ibrahim.

Citaglobal said in a statement the plan is to divert all waste from unsustainable landfills to WtE plants and holistically resolve all waste disposal problems in Malaysia.

Citaglobal said it will assume a leading role in the project development of the WtE project in Malaysia, while SUS will be responsible for financing, building and operating the proposed projects.

"WtE systems not only provide a high value source of renewable energy, but more importantly, its ability to convert waste into ash can significantly reduce the volume of waste that ends up in landfills.

"We see the development of WtE systems as an overall win-win situation for Malaysia. Besides complementing fossil fuel-based power sources, WtE systems generate renewable energy, reduce landfill requirements, and produce revenue for local municipalities and governments," said Citaglobal executive chairman and president Tan Sri Mohamad Norza Zakaria.

SUS CEO Cindy Li Haiyan said the cooperation with Citaglobal will help to "leapfrog" the group's investment in the Malaysia WtE market.

"With SUS' strong extensive track record, we are confident in delivering a modern, clean and efficient WtE plant for Malaysians," she said.

The partnership is in line with meeting Malaysia's renewable energy capacity mix target from 40% in 2035 to 70% by 2050, as announced in the National Energy Transition Roadmap in July 2023.