Hangzhou Asian Games shows green development commitment
It is strongly advised to look at the opening ceremony of the Hangzhou Asian Games on Saturday night.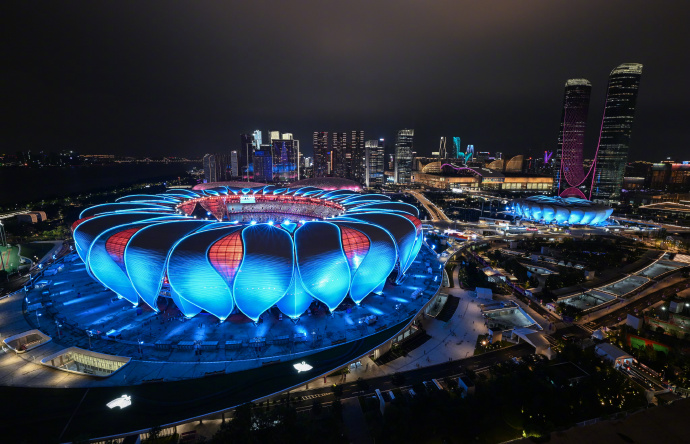 Why? Because China's efforts to reduce carbon emissions are not simply aimed at reducing the use of fossil fuels but also include efforts to drive the development of green and low-carbon technologies through innovation.
It's precisely because of the extreme application of low-carbon technologies that China has made the Hangzhou Asian Games a model in terms of pursuing carbon peak and neutrality goals.
For instance, the spectacular opening ceremony saw the use of zero-carbon methanol, which is regenerated from waste carbon and achieves zero emissions, as fuel for the main torch tower for the first time.
The use of low-carbon, green fuel is not only part of the drive to create the first carbon-neutral Asian Games but also shows China's determination and commitment to low-carbon and innovation-driven green development.
China has never slackened in its pursuit of the carbon peak and carbon neutrality goals. If anything, the Asian Games this time is a clear example of China's seriousness about green development.
Green is the premium color of the Hangzhou Asian Games, which will become the first such games in history to realize 100 percent green electricity supply at all of the 65 venues and related facilities. Green electricity, which refers to zero or nearly zero carbon emissions in power generation, comes from the province's offshore wind and photovoltaic installations, as well as the central and western regions including Northwest China's Xinjiang Uygur Autonomous Region, Qinghai Province and Gansu Province.
More importantly, China has been prioritizing the development of low-carbon technologies in terms of the utilization of renewable energy or improvement in energy efficiency, among others. This is because the development and application of innovative technologies must be essential to achieving economic development while ensuring the accomplishment of carbon emissions reduction goals. Only through the development of new technologies can the achievement of carbon emission goals be reconciled with the main objective of promoting China's economic development, not being set aside in separate approaches.